Once again, it's been a super busy month here at Ouma!
We have all well and truly settled in to permanent office-based life; coffee & tea orders have been memorised, bean bags have been claimed, and our favourite eateries have been scoped out! After months of remote working, it has been a welcome breath of fresh air to see each other again, and work collaboratively in the same space. All we have to do is peer through the plants, looking more like menacing velociraptors from Jurassic Park than sociable colleagues!
June brought with it some welcome sunshine and the occasional warm breeze, which blew away the final cobwebs of home working. With this change in the season came a change in our workforce. We'll leave you in anticipation to meet our sparkly new team members, but rest assured they're worth the wait!
However, it's not just our new team members who have made a splash this month. Our Senior members of staff have thrown themselves into First Aid courses, as well as ION Leadership & Management courses! Personal Development is a huge part of our company culture here at Ouma, so we were delighted when the suggestion of these courses was met with resounding enthusiasm (no, seriously - we're not being sarcastic!)
From learning new things to donning party hats, this month our insanely talented Senior Copywriter, Chelle, celebrated her birthday! We stayed late after work the day before, frantically blowing up balloons and securing bunting with tiny blobs of Blu-Tack. We even made Chelle into her own personal GIF - take a look at our birthday Queen in action below!
The celebrations continued, because the month of June also saw Ouma shortlisted for the Great British Entrepreneur Awards! We are absolutely delighted to be recognised by these prestigious Awards, especially because there were so many incredible candidates who were also in contention.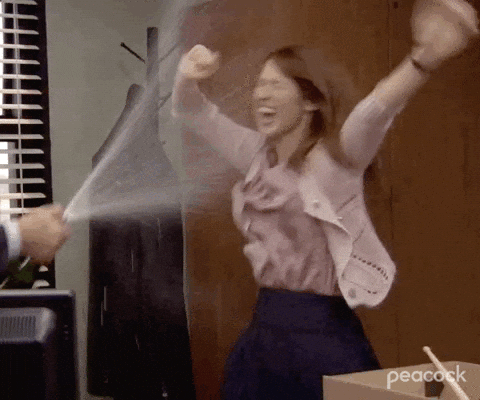 It still blows our minds that here we are, a marketing agency which sprouted from a simple dream, now with more employees than ever before, awards nominations, and a fast-growing client list. We wouldn't be here without the support of our friends, the trust of our customers, and the dedication of our employees; thank you all so much.
Speaking of the fantastic companies and brands that we work with, there have been some really exciting projects that we have completed this month! We designed a couple of fascinating websites which couldn't be more different; one for the Green Britain Academy, an organisation focused on supporting the creation of green jobs, and one for cosmetics company, Hello Beauty.
Perhaps one of our most exciting projects throughout the month of June was collaborating with The Oldwalls Collection on the announcement of their brand new wedding venue, Sant Ffraed House. We drank numerous cups of coffee and created many mind-maps, pooling our creative ideas. Once we started, we honestly couldn't stop! We loved the creative freedom that comes with working alongside this client!
Follow the Oldwalls Collection's brand new venue here
The 'Bride Stride' was certainly a highlight! Seeing a group of women dressed in bridal finery, quite literally stopping traffic in Cardiff & Newport!
Moment captured by The Content Creators courtesy of The Oldwalls Collection
So, there you have it! Our new office is thoroughly broken in by many client meetings and intense idea generation sessions, and we are back in our office-based routines. We've caught our breath, adapted to the admittedly huge change, and found a new rhythm. Along the way, we have worked on ourselves, celebrated more years around the sun, welcomed new clients, celebrated existing clients, and our hard work has been officially recognised.
Here's to one heck of a summer!